A cute little cub in a frightening forest.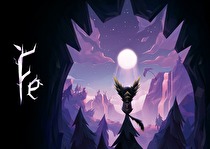 EA's Gamescom press briefing featured a new Switch game announcement.
Zoink Games (Stick it to the Man, Flipping Death) will be developing Fe under the EA Originals independent publishing program. The game was first announced at EA Play 2016, though the Switch was added to the platform list today.
The playable character Fe is a young cub who uses sound to communicate with the friendly and unfriendly creatures of a forest.