Plus news on difficulty modes for the game.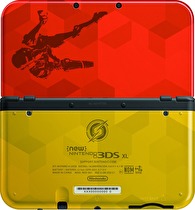 Samus is going to return in style this fall.
Nintendo has announced a Samus Returns-themed New 3DSXL for release with the game on September 15 at "select retailers". The system will have a red back for the top screen with a Samus design and a yellow back for the bottom screen with the classic Screw Attack logo on it.
Nintendo has also provided clarification about the difficulty in Metroid: Samus Returns. The hardest difficulty in the game ("Fusion mode") will require the Metroid Amiibo (sold as part of a two-pack in North America), but a hard mode will still unlock upon completing the game for the first time. Other Metroid-related Amiibo will unlock Metroid II concept art (Metroid II Samus), concept art (Smash Samus) and a soundtrack gallery (Smash Zero Suit Samus).