Speaking personally, these toppings need less salt.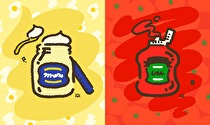 The first post-launch Splatoon 2 Splatfest recorded identical results, even if the path was slightly different.
All three of the regions (North America/Australia, Europe and Japan) recorded 2-1 scores for Mayonaise. Ketchup won the popularity poll in North America and Europe, while claiming the team battles in Japan. Scores were as follows:
North America/Australia: 27-73, 52-48, 51-49
Europe: 34-66, 51-49, 51-49
Japan: 56-44, 51-49, 49-51
The distribution of Super Sea Snail items ingame has resumed, though the losing side received 21 Snails for reaching top rank.