Finally, you can have a Brock Lesnar match last more than six minutes.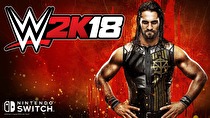 The WWE will return to Nintendo consoles this fall after a five year hiatus.
WWE and 2K announced today that the annual wrestling franchise will have a Nintendo Switch version this year. WWE 2k18 launches October 17 alongside the PlayStation 4 and Xbox One versions, with early access for preorders four days earlier.
The last WWE game for a Nintendo console was WWE 2k13 for Wii, which was one of the last games published by the previous incarnation of THQ. Stars such as Kevin Owens, Shinsuke Nakamura and cover star Seth Rollins are already confirmed for inclusion in the game, with 1996 Olympic freestyle wrestling gold medalist and multi-time WWE champion Kurt Angle available as a preorder bonus.