Cool your jets: Rime is not officially delayed to winter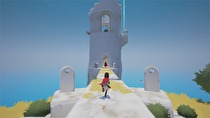 RiME, according to publisher Grey Box, does not have any official release date at the time.
The Switch game, which came out on other platforms in May, was most recently slated for a summer 2017 release on the system. On Nintendo's official site, its release date changed to "Winter 2017".
When reached for comment, Grey Box sent us the following statement: "RiME is in active development for Nintendo Switch and does not have an official release date at this time. We are committed to giving fans a high-quality experience and will share more information with the community through our official Twitter and Facebook when it is available."
As of now, the initial "summer" release window might not be accurate, but by that same token, the winter one might not be either. The truth might lie somewhere in the middle, or more likely, somewhere in the fact that porting games to a new system can be a lot of unexpected work.
When RiME does come out on Nintendo Switch, it will come to both the eShop and retail. Rime will be $29.99 on the eShop and $39.99 at retail, though the physical version will come with a soundtrack.