One of the big moneymakers in modern sports will be on the Switch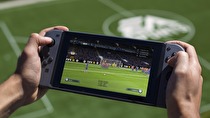 After a press and influencer event today to kick off the 2017 EA Play event, EA has released new details on FIFA 18 for Switch.
The game's website has launched with details on the modes, which include a career mode (non-cinematic), Local Seasons, and FIFA Ultimate Team. Split Joy-Con control support will also be available, as well as multiplayer with a single set of Joy-Cons.
FIFA 18 for Switch will launch on September 29.