And extended battery life as well.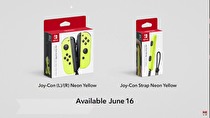 ARMS showed that it will have some leg action today, along with a release date.
The fighter will release on June 16 along with yellow Joy-Con controllers and an add-on battery pack for the controllers. A new character known as "The Ramen Bomber" Minmin was also shown, who can turn her arm into a dragon.