In all of its myriad forms.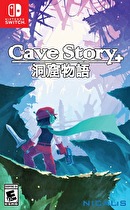 Following the launch of Binding of Isaac Afterbirth, Nicalis's next physical re-release is a couple of months away.
Cave Story+, an enhanced version of the PC freeware/WiiWare/3DS title, will launch in both physical and digital forms for North America on June 20 for a MSRP of US$29.99. Other pricing is to be announced.