Farm at launch, fight at the end of spring.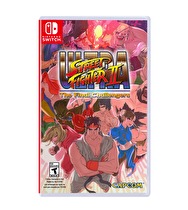 Two more Switch games have confirmed dates, and one is an opening day option.
Capcom has announced that Ultra Street Fighter II: The Final Challengers will launch on May 26 worldwide for $39.99 US/$49.99 CDN/€39.99. The "final" version of the 1991 arcade and 1992 SNES fighter appears to have a physical release as well as appearing on the eShop.
Arc System Works's simulation game New Frontier Days: Founding Pioneers will be out sooner, as the game will be on the eShop beginning March 3 for US$9.99 or equivalent.