Hoping this becomes a regular feature.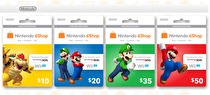 The eShop has updated with "January Digital Deals" for North America that include several retail games.
Titles included in this sale will be discounted until January 25 for North America and Europe. Crossbuy titles will still allow for buy one get one during this period (Severed, Pirate Pop Plus).
The full list of current Nintendo eShop sales can be found here, and the new additions are below:


UPDATE: My Nintendo members can save an additional 10% off the retail price on the following games with Just For You rewards: Gurumin 3D, Disney Art Academy, Yo-Kai Watch, Shantae and the Pirate's Curse, Animal Crossing: Happy Home Designer, WarioWare Smooth Moves, Mario v Donkey Kong 2: March of the Minis, Donkey Kong Country Returns, Mario Party 10
UPDATE 12 January: Further Just For You offers were added overnight for the following: Story of Seasons, Pocket Card Jockey, Splatoon, River City Tokyo Rumble, Pirate Pop Plus, Harvest Moon Skytree Village, Inazuma Eleven, Sonic Boom Fire and Ice, Wario's Woods, Dr. Mario Miracle Cure.