Let's a-go there!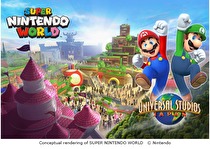 Universal Studios Japan has released financial information and images for Super Nintendo World.
The Japanese park will cost over 50 billion yen ($431 million US) and be completed before the 2020 Tokyo Olympics. It is expected to bring 11.7 trillion yen ($101 billion US) in economic activity to Japan along with 1 million jobs within ten years of opening. Costs and dates were not announced for the Orlando and Hollywood locations.
Park design is being overseen by Shigeru Miyamoto and Mark Woodbury, President of Universal Creative. The park will feature rides, "interactive areas," shops and restaurants based on the Super Mario series and other, unnamed Nintendo franchises.