A worldwide debut for the latest intergalactic game system.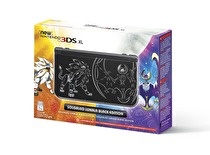 The Galaxy New 3DS isn't the only solar system-based hardware Nintendo is releasing this year.
A Pokémon Sun and Moon themed New 3DSXL will launch for standard retail prices ($199/$249) on October 28 in the US and November 11 in Canada. The system is an all black system with outlines of the two version mascot Pokémon Solageo and Lunala on the back.
The announcement also confirmed that the dual pack of the game that comes with a steelbook - currently sold on Amazon - will include two serial codes for 100 Poké Balls each, as was the case with Omega Ruby and Alpha Sapphire.