One date, one new trailer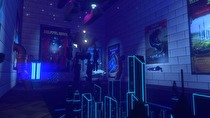 A couple of independent titles have had announcements in recent days.
Soul Axiom from Wales Interactive, which was previously slated to launch in October, has had its release date bumped to September 29 for both North America and Europe. The game will launch for US$14.99/€14.99/£11.99, with the 15% discount available for those who downloaded its event preview during E3 last year.
Twisted Fusion, the Kickstarter-backed game from Lewis Pugh (disclaimer: Lewis has appeared on at least two episodes of Radio Free Nintendo) has a new trailer out which confirms the game will launch in October. The four minute trailer gets into the game's backstory.