The 3DS family of systems expands in Japan (this time without Pokémon).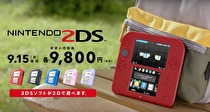 The Nintendo 2DS is getting a stand-alone release in Japan retailing for 9,800 yen( plus tax) on September 15. The system will be released in five colors - Blue, Red, Black, Pink and Lavender.
This isn't the first time the 2DS has been released in Japan. Earlier this year, the 2DS came out with special bundles including the Virtual Console versions of the Game Boy Pokémon games. You can see the Japanese trailer for the system below.