The hunt begins in July.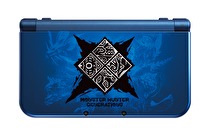 Monster Hunter Generations will invade on July 15, with a new round of hardware to go with it.
The collaboration will release on the same day in North America (published by Capcom) and Europe (Nintendo publishing), and a demo version of the game will be available beforehand as is standard practice.
A new limited edition New 3DSXL will launch on the same day in both territories. No pricing details were given, but in North America the previous Monster Hunter 4 Ultimate bundle which launched with the New 3DS was US$229/C$259. Although the base designs are similar, the North American model will be blue while the European model will be red.
UPDATE: GameStop has listed the North American model at $199.99, with no included game.