Scheduled to open for Mario and Sonic's appearance in four years.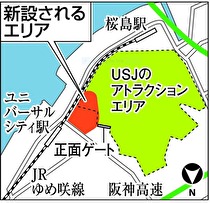 Universal Studios has announced ambitious plans for their Japanese park's Nintendo exhibit.
The Nintendo attraction is slated to open in 2020, timed to coincide with Tokyo's hosting of the Summer Olympics. Universal is anticipating spending roughly 40bn yen (about US$350m at current market rates) on the project.
Observers have noted that the project is to be similar in scale to the Harry Potter worlds currently operating at Universal Studios.