Nine games and some awesome box art.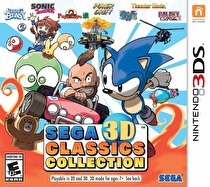 Sega has been teasing something classic, and we now know that it's a 3D Classics collection for the 3DS.
Releasing on April 26 for US$29.99/C$44.99, the collection includes 9 games - four of which are not currently available on the eShop: Power Drift, Puyo Puyo 2, Maze Walker and Fantasy Zone III: The Tears of Opa-Opa. The previous 3DS releases are Fantasy Zone II W, Sonic the Hedgehog, Thunder Blade, Galaxy Force II and Altered Beast.
Pokémon artist Ken Sugimori's box art will carry over to the localized version as well.