The demo's 10 days late, how long did the game get?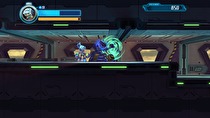 The latest release date for Mighty No 9 has been announced, and it isn't too far into 2016.
At a panel at the TwitchCon gaming convention in San Francisco, Comcept announced that the Kickstarter sensation's console versions (including Wii U) will release on February 9, about a six month delay from the previous September 15 release date. The demo promised to Kickstarter backers for the September 15 date was released after the presentation.
The project, originally funded for over US$4m in 2013, has had a series of controversies since the campaign ended, but it appears the game is in the final stretch and will release close to an animated adaptation.