A new paradigm in soundtrack sampling awaits.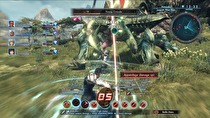 Nintendo's Xenoblade Chronicles X panel at PAX Prime has revealed North America's limited edition for the game.
The special package will include the game with special disc art, a matted art card, a 100+ page art book and a 10 track soundtrack sampler that comes on a custom designed USB drive. The edition has a MSRP of $89.99 (US$).
Soooo this is what you'll get if you preorder the special edition of #xenobladex. Preorders open today! Eeee! pic.twitter.com/eUIDrHJuZV

— Kindra Nikole (@KindraNikole) August 29, 2015
The panel also revealed that 8-4, who handled the localization of Fire Emblem Awakening and the recent Monster Hunter titles (and have appeared on NWR's annual Child's Play podcast telethons) are assisting with the title's localization.