At least this time when you get screwed by the Water Temple, you can yell about it on Miiverse.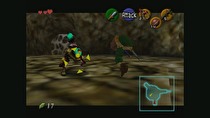 Unlike last year, when it seemed like ten indie games got released on the same day about this time, the first July update of 2015 is light in North America. The biggest Wii U release is, of course, The Legend of Zelda: Ocarina of Time. For those of you who can't find a retail version of Ocarina 3D for MSRP or lower, you can get an inexpensive version of the N64 version that still plays somewhat portably... and if you happened to own it on Wii, it's even cheaper.
In North America, the other spotlight release is Samurai Warriors Chronicles 3, which follows up a 3DS launch title and has a ton of DLC. We've got a preview video on NWR TV from Curtis Bonds, and should have a review of the game proper soon. There's also Roving Rogue on the Wii U, which Neal will be reviewing very soon.
What didn't come out in North America probably came out in Europe, though, because we have three Virtual Console games this week across the pond. In addition to the previously mentioned Ocarina, we've got a pair of Intelligent Systems portable rarities in Advance Wars 2: Black Hole Rising and Fire Emblem: Shadow Dragon. Also, dinosaurs, a stanking amount of sales, and a 3DS game that is best avoided for the sake of your sanity.
North American Downloads
Wii U eShop
Roving Rogue (US$7.99/C$9.49)
Quadcopter Pilot Challenge ($8.99/$9.99)
3DS eShop
Samurai Warriors Chronicles 3 ($39.99)
Mercenaries Saga 2 ($4.99/%6.29)
Wii U Virtual Console
The Legend of Zelda: Ocarina of Time (N64) ($9.99: $2.00 if the Wii Virtual Console version is on the same Wii U)
3DS Themes
Ace Attorney: Dual Destinies Mood Matrix, Dual Destinies Court Record, Trilogy Pixel Art, Trilogy Main Characters
Pokemon: Mega Charizard Y and Mega Rayquaza, Eevee Collection Espeon and Umbreon
Sales and Price Drops
Phoenix Wright games are on sale: Dual Destinies is $16.79 (regular $29.99) and Ace Attorney Trilogy is $22.49 (from $29.99) until July 16.
ittle Dew is $4.99 (regular $9.99) until July 30.
Bombing Bastards and Spot The Differences: Party are on sale until July 9.
Plenty of Fishes is $2.99 (from $4.99) until July 31.
Talking Phrasebook - 7 Languages is $2.99 (from $4.99) until July 9.
Circle Entertainment's European Conqueror 3D, The Legend of Dark Witch and Tappingo are on sale until July 23.
Toy Stunt Bike is $2.49 (from $4.99) until July 30.
Tulip Games are on sale until January 1.
---
European Downloads
Wii U Retail
Lego Jurassic World (€49.99/ £34.99) (From 3 July)
3DS Retail
The Smurfs (€19.99 / £17.99)
Paddington: Adventures in London (€29.99 / £24.99)
YAKARI: The Mystery Of Four Seasons (€29.99 / £24.99)
Wii U eShop
Roving Rogue (€7.99 / £7.19)
3DS eShop
Shingeki no Kyojin: Humanity In Chains (€29.99 / £34.99: Free 3DS theme with purchase)
Mighty Gunvolt (€3.49 / £3.19: Separate release Friday, comes with Azure Striker Gunvolt purchases until midnight tonight)
Fantasy Pirates (€1.99 / £1.99)
KAROUS - The Beast of Re:Eden (€5.99 / £4.79)
Wii U Virtual Console
The Legend of Zelda: Ocarina of Time (N64) (€9.99 / £8.99: €1.99/£1.75 if on the same Wii U, "European version of the game with corrected aspect ratio")
Fire Emblem: Shadow Dragon (DS) (€9.99 / £8.99)
Advance Wars 2: Black Hole Rising (GBA) (€6.99 / £6.29)
Sales and Price Reductions
The following publishers have price reductions this week:
Capcom (Phoenix Wright Ace Attorney Dual Destinies and Phoenix Wright Ace Attorney Trilogy)
Hullbreach Studios (SDK Paint)
Ludosity (ittle Dew)
Avanquest (Secrets of the Titanic 1912-2012, Hotel Transylvania, and Doodle Jump Adventures
MSL (Jewel Quest games, Mystery Case Files games, 4 Elements, Luxor, Secret Mysteries in London, Azada)
Wobbly Tooth (Toy Stunt Bike)
Joindots (3D Game Collection, Funfair Party Games, Gardenscapes, Jewel Match 3, Safari Quest)
CIRCLE Ent. (European Conqueror 3D, The Legend of Dark Witch - Chronicle 2D Act, Tappingo)
EnjoyUp Games (Football Up 3D)