Remember those MonoGame rumors?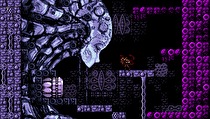 Axiom Verge has not been announced for Wii U due to technical issues, said Dan Adelman, former Nintendo executive now working on business and PR for the game, at PAX East.
"We obviously would love to bring it to Nintendo platforms at some point and we're looking at ways we might want to do that," Adelman told us. "Because of some technical reasons and the way the game was designed, it will take a little bit of time to get it ported over, so we're looking into what that will cost us and how long it will take but that's something we definitely are considering."
The main technical issue is that Axiom Verge is made with MonoGame, a type of development software used to efficiently make games run on other platforms – software that, despite rumors saying otherwise, is not currently coming to Wii U.
@fidgetwidget No it did not. We spoke to the powers that be, but unfortunately it never went anywhere. Still waiting to hear back.

— MonoGame (@MonoGameTeam) January 27, 2015
Adelman told us that at this point, should the game come to Wii U, either MonoGame would need to come to Wii U or Axiom Verge would need to be ported to C++.
Axiom Verge is currently slated for release on PC, PlayStation 4, and PlayStation Vita. Other titles made in MonoGame include Bastion, Fez, Skulls of the Shogun, TowerFall, and Transistor.