Unfortunately, there's no way to wrap it up and place it under the tree.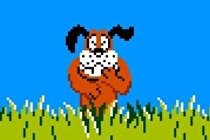 The beloved NES classic Duck Hunt is making its way to Wii U Virtual Console in North America on December 25, Nintendo has announced.
This Virtual Console release was first unveiled during last month's Nintendo Direct broadcast. Instead of using the original Nintendo's light gun, however, this Wii U digital version has been modified to work with the Wii Remote. Additionally, an on-screen reticule has been provided to simulate the gameplay of the NES title.
Will you be hopping on the Wii U eShop on Christmas day to download Duck Hunt?