Join the Famicrew as they all get together for a bumper episode to ring in the festive season, and fight the evil Christmas robot overlord.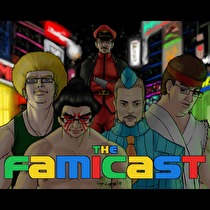 Subscribe via iTunes (Please rate and review, too!)
Here it is, the last Famicast of the year, and boy do we have a good one for you! This bumper episode spans 3 hours with a full 4-man crew!
New business fill sup the first hour; JC shares his feelings on finally getting his brand new Wii U set up, including his favorite features of the system. This leads into more Smash Wii U talk from the other guys, including some choice words on the online mode from Ty. Danny has a very Japanese 3DS game to discuss, the Japan eShop exclusive crane game simulator also known as Home Menu Kazareru Badge Torēru Center. Find out just what the hell is this "game" is, and if it's something you'd like to come to the West. Ty wraps up with talk of his Smash 8 player setup. Spoiler alert, it involves a lot of cables and multiple TVs.
The second hour runs down all the latest releases in Japan due over the winter holidays. Anyone ever heard of Rickman Battle Network? If that doesn't entice you then there's plenty of other great games coming out like Attack on Titan, Sega 3D Archives and…Fremium Wars? Our newly titled segment "Japanews" (see what we did there?) runs down the most exciting stories coming out of Japan including the Bravely Second special edition, Theatrhythm Dragon Quest and the Super Mario Bros movie (no, not that one).
The third and final hour starts with Life in Japan, all about our best and worst Christmas gaming memories in Japan. Learn about Danny's tantrums, JC' and Matt's depressing work stories, balanced out with great stories of hot dates in Tokyo Disney Land, Christmas cakes, and our favorite winter games!
The Famicrew would like to thank all our listeners, new and old, for sticking with us this long. We really appreciate all the folks who followed us to our new stand-alone feed, and continue to listen to our now biweekly ramblings about Nintendo in Japan!
Here's to an awesome new year, from your friends in Japan, Danny, James, Ty, Matt, and the spirit of Minoru!