Miyamoto takes Pikmin to new heights.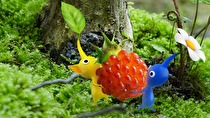 Three short films by Shigeru Miyamoto, featuring Pikmin, debuted today at the International Tokyo Film Festival. The films will eventually be released worldwide through the 3DS' Nintendo Video Channel.
These films, titled "The Night Juicer," "Occupational Hazards" and "Treasures in a Bottle," range from 8 to 12 minutes long and were storyboarded by Miyamoto using Flipnote 3DS and later animated by an external animation company. Production began at roughly the same time as Pikmin 3.
At a press conference following the premiere, Miyamoto revealed how he had always been interesting in making films, but felt movies involved a different skill set than he had. As technology advanced, however, he saw the process as similar to video games.
Miyamoto thought it would be a good fit to make shorts out of the Pikmin series as the characters themselves are so small in the games that they're hard to see without zooming in close. "Treasures in a Bottle" features 500 Pikmin at once as well as Pikmin covered in mud, both things impossible to show in the game. The models used for animation were based on the game's original models but are mostly new as CGI requires ten times the fidelity of Pikmin 3.