Not much of a surprise, but just so you know.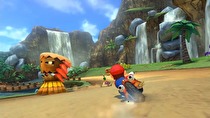 Retro Studios is not helping with Mario Kart 8, according to a Nintendo representative. The representative did add the caveat "not to [his] knowledge" but also expressed doubt that there was even a chance that Retro Studios helped out.
The developers of Donkey Kong Country: Tropical Freeze previously helped with the creation of the retro tracks in Mario Kart 7 on the 3DS as well as the Donkey Kong Country Returns-themed stage DK Jungle. Retro Studios reportedly finished Tropical Freeze at the end of last year. They did not follow that up with helping bring Mario Kart 8 to the finish line.
One of the classic tracks redone for Mario Kart 8 is DK Jungle, though it's likely that Retro Studios had little to no involvement with the updates to the track.
Mario Kart 8 comes out on May 30 in North America.