There is evidence everywhere.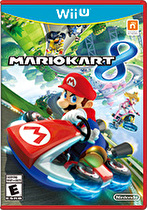 Nintendo appears to be planning to release Mario Kart 8 in a special red case in North America.
While nothing official has been stated, the game appears to have a red case on Nintendo of America's website, and also has been shown while a Mario Kart 8 trailer played on an official Wii U demo station at Best Buy.
Mario Kart 8 is scheduled to be released on May 30 for the Wii U.