Dynasty Warriors and Zelda series are being combined in a new game from Tecmo Koei.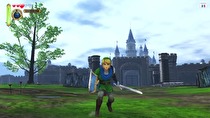 Zelda and Dynasty Warriors are being combined into an all new Wii U game.
Announced at today's Nintendo Direct the crossover, with the working title Hyrule Warriors, is due for a release in 2014. A trailer featured Link taking on hordes of enemies, and the design of Link was similar to Link in Skyward Sword. The game is being developed by Tecmo Koei in a collaboration with Nintendo. Iwata stressed this is not the new mainline Zelda game, but a spinoff.