A killer whale defendant? This is going to be awesome.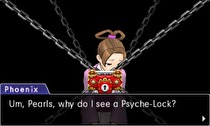 Phoenix Wright: Ace Attorney – Dual Destinies will receive a downloadable add-on available Thursday, November 21. The full-length episode, Turnabout Reclaimed, will cost $5.99 (€4.99 / £3.99).

The episode "recounts the first case Phoenix Wright took on after reclaiming his Attorney's badge," according to the game's Facebook page. Players will have to defend Ora Shipley, a real live killer whale who lives at the Shipshape Aquarium. Pearl Fey will also join in the investigation to assist as the team goes up against prosecutor Simon Blackquill.

Check out the gallery below for episode screen caps.