They weren't kidding about "limited quantities."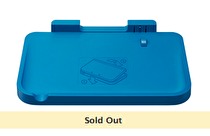 Every color of Nintendo's new multicolor 3DS XL charge cradles are now completely sold out.
The cradles, which became available today on Club Nintendo for 500 coins, sold out within the first hour. Available colors included red, blue, green, yellow and white. This isn't the first time a Club Nintendo reward has sold out very shortly upon release, the Nintendo 3DS Game Card Case recently experienced a similar level of demand.
There is currently no word on when, or if, Nintendo will replenish stock of these items.