The economy is doomed.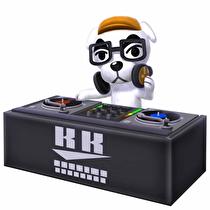 An item duplication glitch has been discovered in Animal Crossing: New Leaf.
This glitch requires two players and an Internet connection. The steps are as follows:
(NOTE: Nintendo World Report and/or the author are not responsible for any damage done to your game or save file. Do this at your own risk.)
Have the first player open up their town to friends over the Internet. This player will be known as the host.
The second player, the visitor, should grab the item(s) they wish to duplicate and then travel to the host town.
Once the visitor arrives in the host town, they should drop all the items they wish to duplicate on the ground.
The host then needs to press start and select End The Multiplayer Session.
Once the session is ending, the visitor needs to physically flick the switch on their 3DS's Wi-Fi to off at the right time when their game is saving. (Note: The host doesn't disconnect their Wi-Fi.)
The timing in which the visitor needs to disconnect in step five supposedly varies depending on latency from, according to people I've talked to. I've had the most success switching it off as the save wheel is about at its first half rotation on the visitors 3DS. Others have told me they have had the best results at one full rotation.
Here are some tips, in case you are having trouble:
If the visitor disconnects their Wi-Fi too early both the host and visitor will get a Resetti error message.
If the visitor disconnects too late only the visitor will have the Resetti error message. Once the game restarts itself the item will no longer be in the visitors pocket but it will still be on the ground in the host town.
If done correctly only the visitor will have the Resetti error. Upon recovering from this error the visitor will find they are back in their town with all the items they left with, basically reverting the to their previous save. The host, having saved his game properly, will have the item(s) the visitor dropped still sitting in their town.