Remember the Wii Vitality sensor? So does Iwata.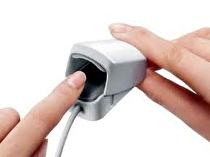 The Wii Vitality sensor was never released because it was "insufficient as a commercial product."
During Nintendo's shareholders meeting, President of Nintendo and CEO of Nintendo of America Satoru Iwata was asked for an update on the Wii Vitality sensor. In his response, Iwata revealed that it would not have been functional for everyone, saying that only 90% of people would have been able to use it after a company-wide test of the product proved to be unsuccessful.
Iwata was sorry for the lack of updates after the product's announcement, citing the lack of updates on the realization of it not coming to the market.