Nabbit is playable. That's something?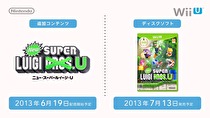 New Super Luigi U will release on the Wii U eShop in North America and Europe on June 20, and June 19 in Japan. It will sell for $19.99 and 2,100 yen respectively. A physical version of the game will also be released across all regions starting in Japan on July 13 for 3,885 yen, July 26 in Europe, and August 25 in North America for $29.99.
The game also features Nabbit as a playable character. Nabbit, who was one of the antagonists of New Super Mario Bros. U, will play similarly to Luigi but cannot use power-ups, nor will he take damage from enemies.