The game's worst kept secret is now out in the open.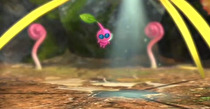 Pikmin 3 will be released on August 4 in North America and August 11 in Japan, as announced in the latest Nintendo Direct presentation.
Dates were not confirmed for Europe or Australia, although it was stated that it would be released in those regions within the next few months.
In addition, a brand new species of Pikmin, referred to as the "Winged Pikmin, has also been officially unveiled.
This new breed, which has been teased several times in earlier trailers, is pink and, as its name suggests, has wings that enable it to hover several feet above the ground. New gameplay footage shows a group of Winged Pikmin carrying items over large obstacles and attacking a flying enemy with great ease.