The (squid) ink has dried on Ikachan's release papers.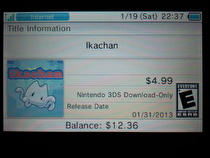 Ikachan, the latest Nicalis port of a Daisuke "Pixel" Amaya game, has been confirmed for release on January 31, and carries a price tag of $4.99. The news comes from the 3DS eShop, and is only a confirmation of its version of the game. We can confirm that the DSiWare version will release at another date.
Developed by Pixel as he took a break from Cave Story's development, Ikachan casts you as the titular squid. In the Metroid-inspired adventure, players guide Ikachan through an undersea world where earthquakes have blocked off areas, limiting resources. A giant fish named Lockhead takes charge, and forces the natives to live by his rules. You can ead Aaron's very recent preview here.
Originally announced for the DSiWare service, it was confirmed for the 3DS eShop late last year. In its transition, Nicalis allowed the game to run in the 3DS's native resolution, and added stereoscopic 3D effects. The DSiWare version is still confirmed for release, but it's unknown if it will release day and date with the 3DS port.
In addition to Ikachan, Nicalis wil be releasing Guxt for the 3DS eShop. Originally developed by Pixel, Guxt is a vertical shooter known for its intense difficulty. Like Ikachan, Nicalis is giving the 3DS port a makeover, adding full color and perhaps even additional levels. Be sure to read Aaron's preview here.