Enjoy the cute squid in a native resolution!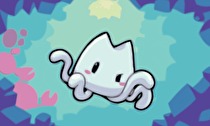 Nicalis, the developer of Cave Story and more, have announced that a dedicated 3DS eShop version of Ikachan will come to the system.
The developer has decided to do this specific version because they feel a port of the DSiWare game wouldn't do Ikachan justice on the Nintendo 3DS. This spark of inspiration comes from their work on the eShop version of Cave Story, which they felt delivered greatly on their expectations. The eShop version of Ikachan will support 3D visuals and will run in a native resolution. Nicalis notes that it's ''a lot more work, but definitely worth it.''
The game, originally made as a freeware game by Daisuke Amaya or Pixel, centers around a squid-like creature named Ikachan. Together with his friend Pinky, he tries to escape from an underwater cave system, which is ruled by a big fish called Ironhead. The caves were ruined by a string of earthquakes, causing them to be cut off from the open sea. Now Ikachan needs to find a way to the sea, as well as a way to acquire food for the inhabitants of the caves. Meanwhile, Ironhead tries to spread paranoia among the people and encourages violence against non-citizens to keep the population from ditching him.
Ikachan can only go up and down in beginning, though he acquires an item later that allows him to move horizontally. Later, he can attack enemies, which allows him to increase in level and make himself stronger.
Ikachan for both DSiWare and Nintendo eShop has not been given an exact release date.