Let your friends hear the tremble in your voice as you battle Jaggi after Jaggi.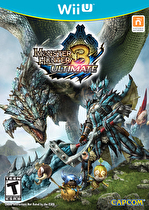 Monster Hunter 3 Ultimate for the Wii U will release alongside a day-one patch that allows for both USB keyboard and voice chat support.
Due to launch March 19 in North America (March 22 in Europe), Monster Hunter 3 Ultimate for the Wii U allows for online hunts with up to three other players. In Japan, the title does not support USB keyboard or voice chat, and it's unconfirmed whether this update will be released there. All regions support an on-screen keyboard presented on the Wii U's GamePad. Online play is not available in the 3DS version of the game.
Monster Hunter 3 Ultimate is an action-RPG that places players in a world inhabited by fearsome beasts. Players are afforded a wide variety of weapons that play to the user's skillset. Whether you prefer long-range or up close and personal combat, there's a weapon for your needs. Taking down these titular monsters can be difficult, which encourages players to hunt in groups. Once defeated, the beast's corpses can be looted for various pieces that can be used to build better gear and weapons.
A demo for Monster Hunter 3 Ultimate will be made available on February 21 on both the 3DS and Wii U eShop.