Nintendo will be launching the game with a steady stream of DLC ready to go.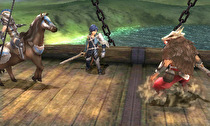 Nintendo America has revealed new information regarding DLC for Fire Emblem: Awakening, which will be launching on February 4.
DLC maps will be available to purchase on launch day with more to come regularly. Players will be able to download the first DLC map for free for a limited time, which serves as an introduction. The DLC is purchased through the Outrealm Gate and becomes available to players after completing the fifth mission in the main story. The new content boasts new class types, skills, playable characters, and storylines, while special maps give players more opportunities to earn experience points, gold, and other rare items.
Along with extra content from purchasing through the game, Nintendo will also be sending out new content through SpotPass for free. The free SpotPass content will be sent out in the launch time frame and will feature new maps, storylines, characters, and items.
Fire Emblem fans will have the chance to try out the game before it launches—an eShop demo will be made available on January 17. When the game launches on February 4, players will be able to purchase at retail or as a downloadable game from the eShop. The game will be priced at $39.99.