Find out everything you need to know about Wii U USB and Wii U internal storage.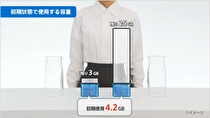 Nintendo revealed details about Wii U USB storage solutions in a Nintendo Direct this evening in Japan.
With the initial Wii U launch firmware, gamers will only be able to use one USB hard drive with a capacity up to 2 TB. Data can be stored and games can be run off of this device. Even if the device is larger than 2 TB, the Wii U will only be able to make use of 2 TB of storage. Once formatted for the Wii U, the hard drive will no longer be able to be used on other devices such as PCs or other gaming consoles.
For those using hard drive without dedicated power sources, a USB Y cable is recommended, which connects allows the device to be powered using two USB ports. Nintendo recommends that gamers do not use these kind of hard drives or USB flash drives due to limitations on data read speed.
At launch, only one USB hard drive will be supported, but at some point in the future, support for two hard drives will be added. This will allow for simple transfers of data between two connected drives.
In the Nintendo Direct, Satoru Iwata also clarified the exact amount of storage space that will be available in the different Wii U units. All Wii U systems will use approximately 4.2 GB for things such as account information and firmware. The 8 GB Wii U Basic set actually has 7.2 GB available for storage while the 32 GB Premium Set has 29 GB. When the required 4.2 GB is taken into consideration, the Basic Set only offers 3 GB of storage while the Premium Set has 24.8 GB available. You can watch the latest Nintendo Direct in its entirety below.