Nintendo launches the Wii U on its own turf for a change.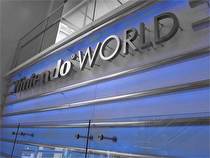 Nintendo is gearing up to hold its midnight console launch celebration for the Wii U at the Nintendo World Store, located in Manhattan.
The celebration will take place on November 17 from 6 p.m. to midnight, when systems will officially go on sale. Some of the festivities include Mii costumed characters, item giveaways, and a guest appearance from Nintendo President & COO Reggie Fils-Aime.
Nintendo held its past console launch celebrations for the Wii and 3DS at Toys 'R' Us and Best Buy, respectively. The Nintendo Wii U is slated to be released on November 18 in North America.