Here's the latest info on the overworld, Challenge Mode, and Miiverse integration.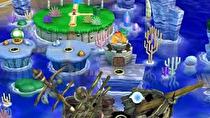 New Super Mario Bros. U will include a continuous, branching world map, customizable challenge levels, and video replays, as detailed in the most recent Japanese Nintendo Direct.
In a special roundtable presentation, game director Masataka Takemoto showed off several new aspects of Mario's inaugural Wii U outing. The game plays out across a single giant overworld that seamlessly transitions between different environmental themes. As you go, comments left on Miiverse will appear next to individual levels.
Players can choose from multiple paths as they progress through the world map, tackling sections out of order. Various distractions appear on the map between stages, like roaming items and enemies, as well as the recently-revealed Nabbit (known as Totten in the Japanese version) character, who Mario must chase into a certain level.
Takemoto also expanded upon the game's ancillary modes. Coin Battle returns after debuting in New Super Mario Bros. Wii, but now with the option to play in teams, either two against two or three against one. Meanwhile, the GamePad controller's touchscreen can be used to edit the locations of the coins and Star Coins in each stage.
In addition, new features of the Challenge Mode were revealed. In this mode, players enter score-based minigames with various objectives such as time trials, collecting 1-Ups without touching the ground, beating a level with fewer than five coins or surviving for as long as possible in a room full of baddies.
The game comes with many challenges, including some that are only possible with a second player using Boost Mode on the GamePad, but you can also set your own rules and then share these challenges with your friends via Miiverse. High scores and video replays of your runs can also be shared over Miiverse.