Finally, more details on Miiverse!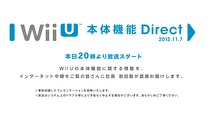 A Japanese Nintendo Direct focusing on various system features, including Miiverse, will air tomorrow morning at 6 a.m. EST/3 a.m. PST.
The broadcast, which will last approximately 35 minutes, will finally reveal some more details of Nintendo's soon be release home console, the Wii U. Check below for the time of the broadcast in a few other regions.
20:00 JST
06:00 EST
03:00 PST
11:00 GMT
A Nintendo Direct on this topic has been widely anticipated because of its topic on some of the Wii U's online functionality. Details on this subject have so far been slim.
Check back with Nintendo World Report tomorrow morning for our coverage of the event.