The digital version of the game will be cheaper, but at the expense of a massive chunk of hard drive space.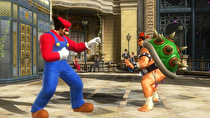 Tekken Tag Tournament 2: Wii U Edition will be sold on the Wii U eShop, as well as at retail, when it launches alongside the new console.
In Japan, players who buy the digital version will make a small savings, as Namco Bandai Games revealed that the download will cost 6,280 yen, whereas the retail version is priced slightly higher at 6,980 yen. Pricing details for the Western release are yet to be announced.
The digital version will also require 16.7 gigabytes of memory. Put into context, the game will take up over half of the Premium Wii U's 32GB internal memory, while owners of the Basic Wii U, which holds just 8GB of internal memory, will need to plug in an external storage device if they want to complete the download.
Tekken Tag Tournament 2: Wii U Edition is an enhanced version of the tag-team fighting sequel, featuring the all-new power-up based Mushroom Battle mode and a slew of character outfits based on Nintendo franchises such as Mario and The Legend of Zelda. The game is expected to release on Wii U launch day in all territories.