Could this be the final title for SiNG?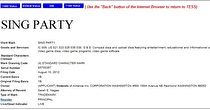 Sing Party, an upcoming software title, has been registered as a trademark by Nintendo of America.
As of right now, there is no word as to whether the title refers to an previously announced game or a new one, but SiNG for Wii U, from Nintendo and DJ Hero developer Freestyle Games, was unveiled as a working title when it was announced at E3 this year.