Play against your friends in Sega's classic puzzler if you have a Japanese 3DS.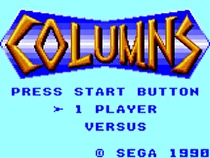 The Nintendo 3DS Virtual Console handheld Game Gear version of Columns will feature a 2-player local multiplayer mode.
In order to play, gamers will each need to have a copy of the game and a 3DS. Columns is being released on the eShop in Japan next week on August 8 for 300 yen.