The latest eShop title is a wacky take on the popular Puzloop series.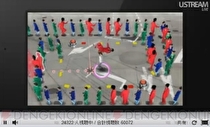 Gyouretsu Nageloop is newest eShop title coming to the 3DS this summer in Japan.
According to Iwata during today's Nintendo Direct conference, the game can be considered a new version of Puzloop (Magnetica). However, instead of the usual colored balls present in previous installments of the series, in Nageloop you knock people out of lines by matching their colors.