It's not much, but it exists all right.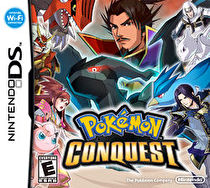 Pokémon Conquest pre-order purchases at GameStop will come with passwords for various Pokémon, including Emolga, Riolu, Scyther, Lapras, and Pikachu.
Furthermore, those who spend 1000 Power-Up Rewards points will receive another five passwords for Larvitar, Axew, Beldum, Sneasel, and Darmanitan. Because the passwords are universal, everyone who pre-orders the game (or spends the points) will receive the exact same code.
Pokémon Conquest comes out in North America on June 18.