It's Sega meets Capcom meets Namco Bandai, brought to you by Monolith Software.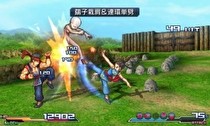 Project X Zone is being developed by Monolith Software, according to the latest issue of Famitsu. The game, which is a tactical RPG crossover featuring characters from Sega, Capcom, and Namco Bandai, is expected to release on Nintendo 3DS in Japan this year.
The magazine also provided several gameplay details. The game will feature what is being called "Cross Active Battle System" and is set in a grid-based map. There will be be timing-based attacks which will allow your characters to perform special skills.
In addition, the game will feature character development allowing the learning of more skills as the game progresses. Each character will support up to five skills, all of which can be individually leveled up. The game encourages you to use as many of your skills as possible, rather than sticking to one or two.
Project X Zone has no firm release date at the moment, but is expected to release in Japan before the end of 2012.