Only one thing is known about the game—it will have crude humor.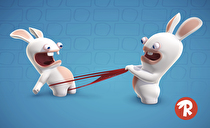 The Australian Classification Board has leaked the existence of a new Rabbids game called Rabbids Rumble.
The listing for the game, however, only confirms that it will have crude humor. It lists Ubisoft as the developer, with no date of release. The game was classified on May 2, 2012.
While the listing doesn't mention a specific system, Ubisoft has pledged support toward the Wii U, proclaiming that they have seven games in the works for the system, many of which we might expect to see at this year's E3 conference.