The next Game Boy Color title to hit the service in Japan has been unveiled.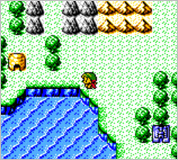 Megami Tensei Gaiden: Last Bible, also known as Revelations: The Demon Slayer in North America, is releasing on the Japanese 3DS eShop on April 25.
The game was originally released on the Game Boy Color in 1999, and is now getting a re-release so all Japanese 3DS owners can enjoy it. In the game, you are able to talk to and fuse monsters in a medieval setting.
Though Revelations: The Demon Slayer hits Japan next week, there are currently no known plans for a stateside release.