Developer Two Tribes might be aiming for a launch window release.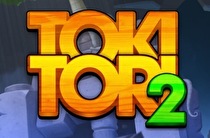 Toki Tori 2, the sequel to the downloadable cult hit by Two Tribes, is "definitely" coming to the Wii U, according to a conversation at the 2012 Game Developers Conference.
In conversation about the much hoped-for Wii U port of their upcoming game, Collin van Ginkel, Creative Director and Co-Founder of Two Tribes, responded that "it will be on Wii U. Definitely. Yes."
However, the sense of secrecy around Nintendo's upcoming console was so palpable that van Ginkel immediately turned to colleague Martijn Reuvers, Managing Director for Two Tribes, and asked, "Can we say that?"
Thankfully, Martijn agreed, adding that "we're pretty sure that it's going to happen really quickly after launch. Maybe at launch but we don't know, depends on Nintendo plans."
While still short of a full and direct confirmation of the game being in active development for the Wii U, several reports have shown that Two Tribes is strongly behind the idea, including recently revealed concept art showing a screenshot of Toki Tori 2 displayed on the Wii U controller. The Toki Tori series has already appeared on WiiWare and will soon be released on the Game Boy Color Virtual Console so the possibility of the sequel arriving on the Wii U is high.
Keep an eye on Nintendo World Report for more details on Toki Tori 2 uncovered during the GDC meeting with Two Tribes.